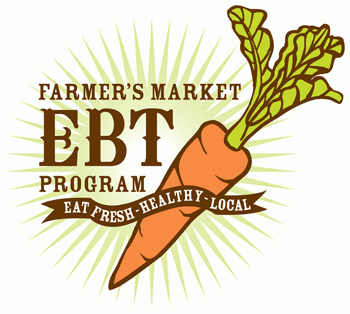 SNAP/EBT Guidelines
The St. Cloud Area Farmers Market SNAP/EBT program is open, and we look forward to making fresh, healthy, and affordable food choices available to our community!
HOW DOES SNAP/EBT WORK?
EBT shoppers will be able to purchase $1. These tokens will be used to purchase any SNAP eligible food items at the St. Cloud Area Farmers Market only. Debit and credit cards will also be accepted at the Information booth to purchase $5 tokens.
The EBT/SNAP Process for Customers
Decide on the amount you would like to spend, and then have your card swiped at the Information booth in the market. There is no fee to use EBT. Redeem tokens valued at $1 for use at stalls selling eligible foods. When the purchase amount does not equate to a whole dollar, NO change will be given. You can spend tokens right away or you can save them for another day when you return to the St. Cloud Area Farmers Market. Cash refunds cannot be given, and tokens must be used before October 30th, 2023.
What can I buy with EBT tokens?
Vegetables, fruit, dairy products, meat, poultry, fish, eggs, bread, cereals, jam, syrup, honey, rice, grains and dried beans, pickles, and packaged pastries. Cold wrapped and packaged edible items. Also, seeds or plants that produce food can be sold (ex: tomato or cilantro plants).
You will NOT be able to purchase: flowers, shrubs, fresh-cut flowers, decorative plants, fall ornamental plants, pumpkins, non-edible plants, non-food items, hot or cold immediately consumable foods, pet food, soaps, paper products, crafts or clothing items, fountain drinks hot or cold to include coffee & tea.
Vendors will not exchange tokens for U.S. currency.
Redeem EBT tokens
8 a.m. to Noon, Saturdays, Information booth located at the Market
WIC & FMNP
Women, Infants, and Children (WIC) and Farmers Market Nutrition Program (FMNP) checks are specifically for purchasing fresh fruits and vegetables at authorized farmers' booths. Vendors that accept these checks will have specific signage displayed within their booths.